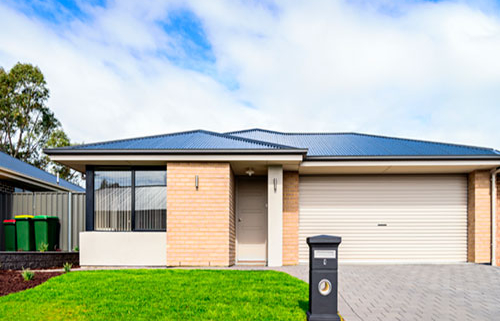 Property Street Appeal
Property street appeal should be your number one priority when it comes to sprucing up your home. Potential buyers will see your home's exterior before all else in listings and on open day. An exterior that isn't well presented can mean the difference between potential buyers choosing to visit your property or deciding to give it a miss.
Here are some things you can do to increase the property street appeal and sell your home fast:
Inviting path to your main entrance

Make the path to your main entrance clear and inviting even on rainy days and at night. There should be no overhanging branches from shrubs, spider webs or uneven stones obstructing visitors from arriving safely at your door. Use solar lights as a guide when it is dark. Use colour during the day.

Spruce up your gardens.

After mowing, removing weeds and cutting back foliage, consider how you can quickly improve the appeal of your garden. Refresh mulch, repaint garden edging or add some brightly coloured plants. Anything you can do to add wow factor to your landscaping is worth considering.

Wash your home's exterior

A pressure washer is a great option for removing built-up dirt and grime from the outside of your house and the driveway. It's a fast way to help your exterior shine on the open day.

Repaint dull or cracking paintwork

Repainting exterior paintwork around windows or on shutters can instantly brighten up your home and make it inspection worthy. Consider repainting the entire exterior of your home if it will dramatically improve first impressions of potential buyers.

Attend to fencing

In the eyes of potential buyers, a well-kept fence is a sure sign that the house will have plenty to offer. Completing any much-needed repairs and brightening up timber or corrugated iron fences with a fresh coat of paint is a great place to invest some time and money.

Clean and polish

Sweep away any cobwebs that could be making your home look uninhabited and be sure to polish anything that can be polished to make even the smallest elements shine.

Add some colour

Colour can instantly brighten up your home and make it feel welcoming. Consider adding some colourful flowering plants to entryways and porches. Some well-placed flowers either side of the driveway can invite potential buyers on the open day and give a great first impression.

Replace or rejuvenate driveways

Driveways make up an important part of a potential buyer's first impression of the home. Dirty driveways or those with old, cracked concrete can reduce a property's value so are a great place to invest some of your time and money. However, this type of value-add project can be a big undertaking, so it's worth considering your options and trying to add some wow factor in the process.
Pavers come in an assortment of colours and styles and allow you to be creative. Try mixing colours to create unique patterns or contrasting borders. Interesting features along driveway boundaries can add something extra that draws the eye, as can using a mix of materials, like grass and white gravel.
https://estatepropertygroup.com.au/wp-content/uploads/2019/03/Street-Appeal.jpg
334
500
Helen
https://estatepropertygroup.com.au/wp-content/uploads/2021/02/xxxxx.png
Helen
2019-03-21 09:32:44
2021-02-15 12:04:13
Property Street Appeal