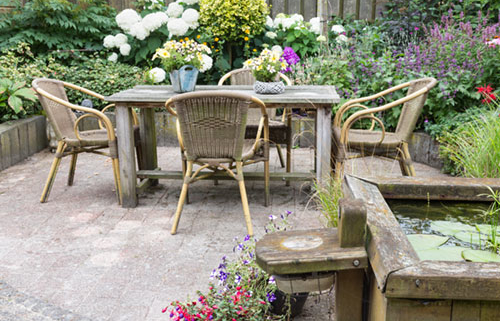 Updating Your Garden
Australians often have an affinity for the great outdoors, so investing in your garden can significantly add value to your home. However, unlike other value-add projects, updating your garden usually encompasses many projects. Here are some great ways to improve your update your garden landscape:
Do a clean up: overgrown gardens will instantly benefit from a garden clean up. Cutting back hedges and trees, removing fallen palm leaves and pulling out weeds or unwanted plants will help you see what you have to work with and maybe all your garden needs.
Add new vegetation: Bare areas will likely benefit from the addition of plants or flowers. Just be sure to choose those that are easily maintained and climate appropriate.
Do a complete overhaul: If the current garden isn't doing anything special for space, consider replacing existing plants, hedges and trees with updated versions. This allows you to plan from scratch and add a touch of your own creativity.
Add separate zones: Using garden beds to separate areas of the garden is a great way to add interest and use colour creatively. A well-planned, segmented garden can add instant street appeal to your property.
Add features: Features like solar lighting, ponds and fountains can add interest to an otherwise average garden. Just be sure to check the maintenance and running costs of some features to make sure they are worth the investment.
If the thought of updating your garden isn't something that inspires you, you can hire a professional landscaper to help design and implement your new garden.
Revitalising Your Outdoor Area
The Australian weather lends itself to outdoor living and entertaining, so investing in outdoor areas can dramatically increase the perceived value of your home. As with gardening, outdoor areas can involve many projects and usually require forethought and careful planning. Here are our top tips for revitalising your outdoor areas.
Add a patio or entertainment area
Entertainment areas can be quick and simple or more expensive, extravagant projects, depending on your budget and requirements. However, all outdoor entertainment areas should be designed with the following in mind:
Green areas
Hard, flat surfaces
Comfortable seating
Protection from the weather
For patios that offer an entire additional living space to the home, you might consider installing attractive lighting, a state-of-the-art kitchen or on-trend style items, like artwork and sculptures. Although more expensive, they are often worth considering the amount of value they can add to your property by essentially offering an extra room.
Pools and Spas
A pool or spa can seem like a luxurious item that will only add value to your home. However, these can be hit or miss with potential buyers. Some people don't enjoy owning their own pool and prefer to swim at the local gym or swimming pool. Pools and spas both require a lot of upkeep and, for busy people, it can often be too much hassle. Before deciding on a pool, calculate maintenance costs to determine if it will negatively affect any potential added value.
It's a good idea to install a pool or spa simply because you or your family want one. That way, you'll get to use it and it may later be helpful it getting a better price for your home.
ess your home for success can make all the difference and need not cost a fortune. Investing in a good, thorough clean is a necessary first step to ensuring your home is sparkling on open house day. Next, determine the optimal placement for furniture and replace items wherever necessary.
Furniture placement should open up the room and make it look as large as possible. Finally, invest in accessories that make your home look fresh, stylish and modern. These don't have to be expensive; you can often find cheaper versions of expensive, fashionable items. Throws and cushions are great low-cost options that can change the way a room looks and feels.
Updating your garden is an excellent way to increase the value of your property!
Contact Margarete here for a no-obligation conversation.
https://estatepropertygroup.com.au/wp-content/uploads/2019/03/Update-Garden.jpg
333
500
Helen
https://estatepropertygroup.com.au/wp-content/uploads/2021/02/xxxxx.png
Helen
2019-03-28 10:39:56
2019-03-14 10:48:00
Updating Your Garden