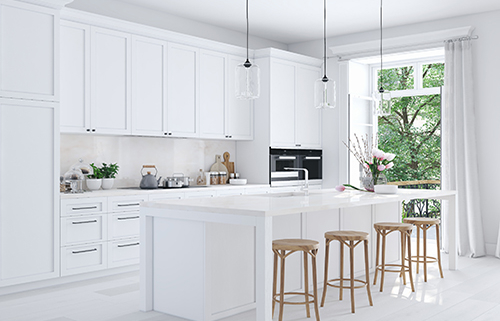 Renovate Your Kitchen
The kitchen/dining area is essentially the heart of your home, where family and friends gather to socialise and enjoy a good meal. It's usually the most used space in the house, so spending money to renovate here is never a waste. Any improvement to your kitchen, whether big or small, will add value, so there's bound to be something you can do that's within budget. Here are some possibilities:
Light colours: Trendy colours for kitchens are white or other light colours. Replacing dark timber doors with white laminate is a cost-effective way of updating kitchens.
Open-plan kitchens: these have long been a trend in home renovations and will open up your living area, making it much more social and enjoyable. Converting a closed-off kitchen to a larger, open plan one that continues to the dining area and beyond can dramatically change the feel of the whole home.
New appliances: If a complete kitchen renovation is out of the question, simply updating the appliances can be a big improvement. Old, outdated appliances can make a kitchen look dated, even when placed in a modern kitchen. Replacing them with new ones will not only help the kitchen look sleek and modern, but will also make cooking and cleaning easier with state-of-the-art technology.
Lighting: Increasing natural light or updating old light fittings can make the space more inviting and is an easy way to instantly brighten up your kitchen.
https://estatepropertygroup.com.au/wp-content/uploads/2019/04/Kitchen.jpg
333
500
Helen
https://estatepropertygroup.com.au/wp-content/uploads/2021/02/xxxxx.png
Helen
2019-04-20 09:12:03
2019-04-13 01:22:11
Renovate Your Kitchen